I have actually raved prior to about just how much I like basil. And I believe I state that whenever I release a dish with basil in it. However I typically utilize it in unforeseen, sweet applications– ice cream and drinks being 2 of my favorite. So it was long previous time I accept most likely its most popular preparation, pesto! This Chicken Pesto with Roasted Veggies is an unbelievably rewarding meal that takes barely any effort at all (specifically if you can get pre-cut veggies). Delight in!
Having A Hard Time to Start the Autoimmune Procedure?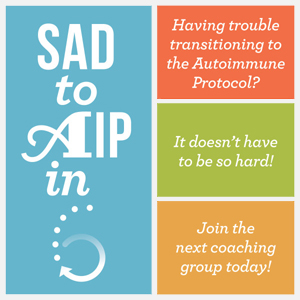 Dealing with persistent disease can be separating enough without revamping your way of life, typically without the complete assistance of relative who do not desire their diet plans to alter. However you do not need to go through it alone. SAD to AIP in 6, from Nutritional Treatment Professional and author of The Alternative Autoimmune Cookbook Angie Alt, will coach you step-by-step through the shift from the basic American diet plan (SAD) to the autoimmune procedure (AIP). The six-week course consists of training from Angie and her group, assistance from your peers in the program, and recommendation products– it's an extraordinary deal compared to personal health training sessions. If you're having a hard time to make the modification to the AIP or feeling separated on your health journey, this is the program for you!
Portions: 4 portions
Components
2

cups

basil

1/2

cup

additional virgin olive oil

1/4

cup

lemon juice

2

tablespoons

mint

1

clove

garlic

( minced)

1/2

teaspoon

sea salt

1/2

teaspoon

ground black pepper

( leave out for AIP)

1

pound

chicken breasts

( sliced)

2

medium

carrot

( sliced)

2

medium

zucchini

( sliced into quarter moons)

1

big

yellow squash

( sliced into quarter moons)

1

little

red onion

( sliced)
Nutrition Truths
Calories: 558 kcal Carbohydrates: 18 g Protein: 39 g Fat: 39 g Hydrogenated Fat: 7 g Polyunsaturated Fat: 6 g Monounsaturated Fat: 25 g Cholesterol: 96 mg Salt: 718 mg Potassium: 1391 mg Fiber: 8 g Sugar: 6 g Vitamin A: 12650 IU Vitamin C: 899 mg Calcium: 280 mg Iron: 6.5 mg
Guidelines
Preheat the oven to 400 degrees F and line a rimmed baking sheet with parchment paper. Additionally, grease it with coconut oil.

Integrate the basil, oil, lemon juice, mint, and garlic in a mixer and procedure up until smooth. Include salt to taste.

In a big bowl, toss the chicken, carrots, zucchinis, squash, and onion with the pesto. Spread out the mix on the baking sheet in an even layer.

Bake 30-40 minutes or up until the chicken is prepared through, stirring as soon as midway through.